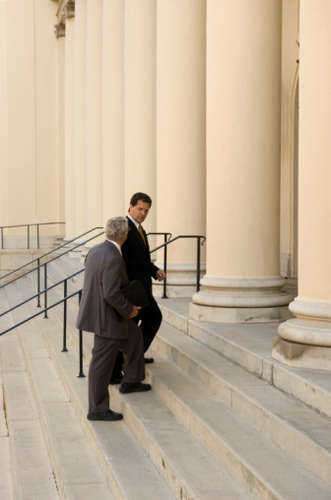 Guide to Divorce Lawyers for Men
How do I find a Divorce Lawyer for Men?
Divorce is equally hard for both men and women, and some lawyers will advertise their services in order to help both men and women. However, some lawyers and lawyer associations provide specific services to men involved in a divorce. It is imperative that you find the right lawyer for your divorce case, and there are several strategies to finding a highly qualified divorce lawyer for men.
Word of Mouth
The first strategy for finding divorce lawyers for men involves talking with people you know. Referrals by word of mouth are sometimes the best kind of references—especially if the person you know came out of the divorce with the results they wanted.
However, even if you obtain a referral through word of mouth, you should always attend a consultation and ask specific questions about your case. Just because the divorce lawyer for men achieved the best settlement for your friend doesn't mean they can provide the same kind of services for you.
Lawyer Associations
Some states have specific lawyer associations that provide services to men involved in a divorce or separation. For example, the state of Michigan has the American Divorce Association for Men (ADAM). Not all states have specific lawyer associations for men, but it doesn't hurt to do some research. In order to see if your state has a similar lawyer association, you should consider researching your state bar association or contacting your state's lawyer referral service.
What Services can a Divorce Lawyer for Men Provide?
A divorce lawyer for men can provide services for any stage of the divorce process. Below is list of the some of the services and strategies they may suggest.
Divorce Petitions
Your attorney will often stress the importance of filing a petition for divorce before the other spouse. There are certain strategies in filing first, and you should discuss this option with your divorce attorney.
Property Settlement
A divorce lawyer for men will often provide strategies for protecting certain pieces of property you want to keep within a divorce. They may suggest items you can afford to lose in order to obtain the pieces of property you still want.
Child Custody and Child Support
Only 25% of children live with a male custodial parent after the divorce. If you are a male with non-custodial rights, the proper attorney can help you formulate a specific schedule for visitation rights. They will also provide strategies if the custodial parent denies you visitation rights. The same lawyer will also be able to help you with child support. Some states follow certain formulas for child support, but a lawyer will help you with other factors that can impact the results of a specific formula.
Modifications
A divorce lawyer for men can provide specific services for modifications in paying spousal support and even child support. If you have experienced a significant lose in income because of losing your job or similar action, an attorney will suggest steps for submitting forms that will reopen the divorce case and change support payments.
Comments
comments